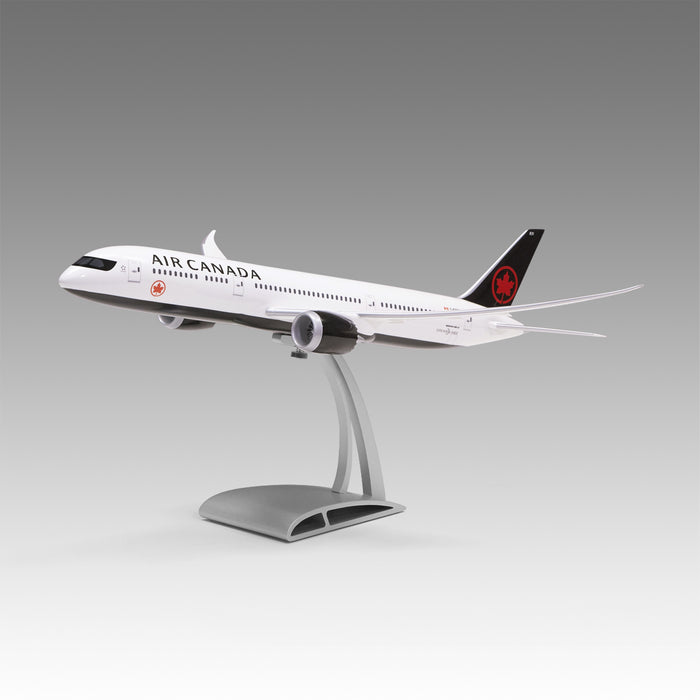 Air Canada 787-9 Desktop Model in 1/144 Scale
Sale
Sale
Duties and taxes not included
The Boeing 787-9 is the same wingspan as the 787-8 but it is 20 feet longer (6.1m) and designed for MTOW (maximum take-off weight) of 560,000 lbs. It is primarily constructed of composite materials and features electrical flight systems, raked wingtips, and noise-reducing chevrons on the engine nacelles. Air Canada's 27 787-9 are configured with 298 seats.
Available in 1/144 scale. See below for dimensions.
Personalize your model with a custom base imprint! See below for details.
---
Aircraft Type: Boeing 787-9
Livery/Paint scheme: Air Canada
Base: Airfoil™
Dimensions:
| | | |
| --- | --- | --- |
| Scale | Length (in/cm) | Wingspan (in/cm) |
| 1/144 scale | 17.17 in/43.61 cm | 16.43 in/41.74 |
Now you can see the video walkthrough for this model!
---
Base Imprint Details
Imprints are additional and can only be added to the Airfoil base. Unfortunately, imprints cannot be added to our replacement bases.
To add an imprint to your order, please choose the imprint option. You can leave a note during checkout with your message. If you do not see this option, click on the shopping cart icon in the upper right corner to view your cart.
You may also email us with your order number and message if you experience any issues.