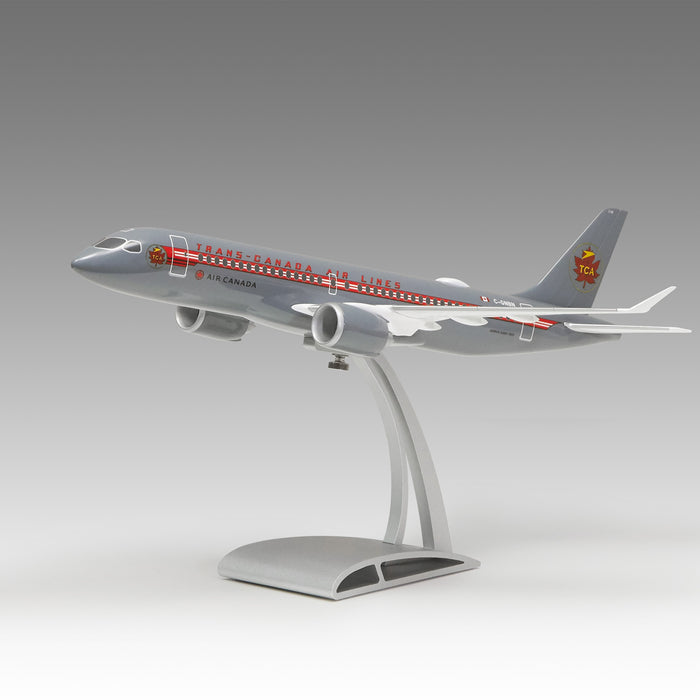 Air Canada A220-300 (TCA livery) Aircraft Model in 1/100 Scale
Sale
Sale
Duties and taxes not included
Air Canada's new A220-300 models are adorned in a retro paint scheme in commemoration of their roots. Trans-Canada Air Lines, known colloquially as TCA, was the first airline in Canada with truly national reach. This livery honors that history.
The Airbus A220, previously known as the CSeries, is a family of narrow-body, twin-engine, medium-range jet airliners. Originally designed and built by the Canadian manufacturer Bombardier Aerospace, it is now marketed by Airbus and built by a joint venture Airbus Canada Limited Partnership.
Available in 1/100 scale. See details below.
Personalize your model with a custom base imprint! See below for details.
---
Aircraft Type: Airbus A220-300
Livery/Paint scheme: Trans-Canada Airlines
Base: Airfoil™
Dimensions: 
| | | |
| --- | --- | --- |
| Scale | Length (in/cm) | Wingspan (in/cm) |
| 1/100 scale | 15.24 in/38.70 cm | 13.82 in/ 35.10 cm |
---
Base Imprint Details
Imprints are additional and can only be added to the Airfoil base. Unfortunately, imprints cannot be added to our replacement bases.
To add an imprint to your order, please choose the imprint option. You can leave a note during checkout with your message. If you do not see this option, click on the shopping cart icon in the upper right corner to view your cart.
You may also email us with your order number and message if you experience any issues.