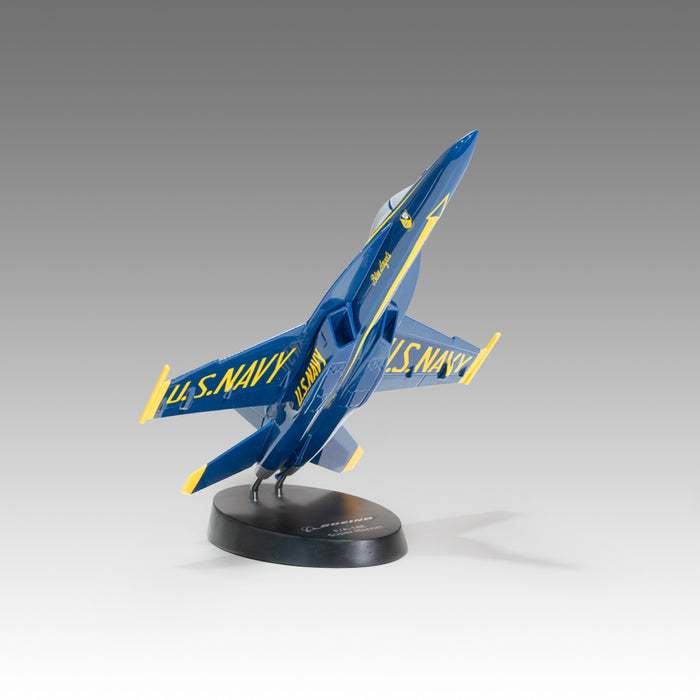 Blue Angels F/A-18E Super Hornet Aircraft Model in 1/48 Scale
Sale
Sale
Duties and taxes not included
The Blue Angels F/A-18E Super Hornet is a twin-engine, supersonic, all-weather, carrier-capable, multirole combat jet designed as both a fighter and attack aircraft.
Designed by McDonnell Douglas (now Boeing) and Northrop, the F/A-18C was derived from the latter's YF-17 in the 1970s for use by the United States Navy and Marine Corps. The F/A-18C is also used by the air forces of several other nations. Since 1986, it has been used by the U.S. Navy's Flight Demonstration Squadron, the Blue Angels.

The Blue Angels will be transitioning to fly the F/A-18E Super Hornet in 2021 for their 75th anniversary season.
PacMin is a licensed supplier of aircraft models for Boeing. Now you can take home the same model used by the F/A-18 program!
---
Model Details

Packaging Details

Custom Imprint Details

1/48 scale F/A-18E in official Blue Angels paint scheme

Dimensions: 


| | | |
| --- | --- | --- |
| Scale | Length (in/cm) | Wingspan (in/cm) |
| 1/48 scale | 14 in / 35.6 cm | 10 in / 25.6 cm |

Base: Injected resin base with aluminum upright and imprint. Customization available.

Some light assembly is required.

Your model will ship in a corrugated box with hand-cut foam. You will also receive a PacMin Owner's Guide and cleaning cloth.

Personalize your model with a custom base imprint! 

Imprints are additional and can only be added to new orders. Unfortunately, imprints cannot be added to our replacement bases.

To add an imprint to your order, please choose the imprint option. You can leave a note during checkout with your message. If you do not see this option, click on the shopping cart icon in the upper right corner to view your cart.

You may also email us with your order number and message if you experience any issues.