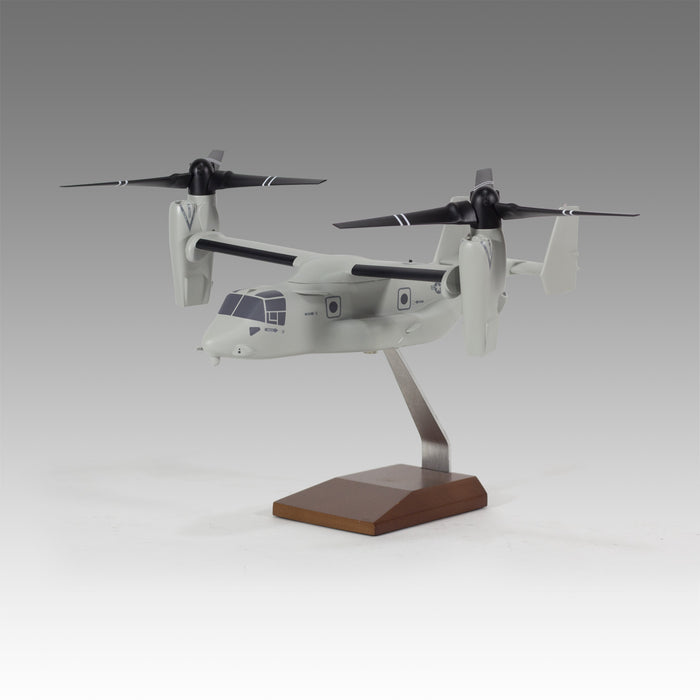 US Marines CMV-22 Osprey Military Aircraft Model in 1/55 Scale
Sale
Sale
Duties and taxes not included
The Bell Boeing V-22 Osprey is an American multi-mission, tiltrotor military aircraft with both vertical takeoff and landing (VTOL), and short takeoff and landing (STOL) capabilities. It is designed to combine the functionality of a conventional helicopter with the long-range, high-speed cruise performance of a turboprop aircraft.
Available in 1/55 scale.  See the chart below for dimensions. 
The engines on this model rotate 90o and can be posed in both takeoff and flying positions. 
---
Aircraft Type: Bell Boeing V-22 Osprey
Engine Type: 2 Rolls-Royce AE 1107C 
Livery/Paint scheme: US Marines
Base:  Wood base with aluminum upright
Dimensions: 
| | | |
| --- | --- | --- |
| Scale | Length (in/cm) | Wingspan (in/cm) |
| 1/55 scale | 12.53 in/31.82 cm | 10.02 in/25.45 cm |